| | |
| --- | --- |
| | |
The Lady of All Nations Says this Prayer Aloud for the First Time
Already in the very first message on March 25, 1945, Our Lady speaks about her PRAYER as if it was already known. 'The prayer must be spread,' she desires. Yet it is only six years later, on the feast of Lourdes February 11, 1951, during a visit to Germany that the visionary hears the touching prayer from the mouth of Our Lady.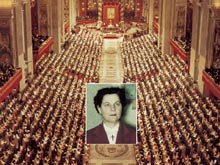 The universal significance of this prayer for the Church and the world is shown by the fact that Our Lady revealed it during the prophetic vision of the Second Vatican Council. Suddenly the vision of the Second Vatican Council was interrupted. Ida was led before a cross and was so painfully united with the sufferings of Jesus and Mary that she began to cry. Let us let the visionary recount:

"While I was still standing with the Lady before the Cross, she said, 'Repeat after me.' … Then the Lady said, 'Lord Jesus Christ, Son of the Father…' But the way she said it! It goes right through you. I have not yet heard anyone in the world pray it as she did. 'Send NOW Your Spirit' with the emphasis on NOW, and 'Let the Holy Spirit live in the hearts of ALL nations' especially stressing the word ALL. She also pronounces the word 'AMEN' so beautifully and solemnly. As I repeated everything word for word, I was unaware what all this was actually suppose to be that she was reciting to me. However, when the Lady said 'Amen' everything was written in large letters before me. Only then did I realize that it was a prayer. The strange thing is that … I never had to learn it by heart … it was as if impressed upon my memory.
LORD JESUS CHRIST,
SON OF THE FATHER,
SEND NOW YOUR SPIRIT
OVER THE EARTH.
LET THE HOLY SPIRIT LIVE
IN THE HEARTS OF ALL NATIONS,
THAT THEY MAY BE PRESERVED
FROM DEGENERATION, DISASTER AND WAR.
MAY THE LADY OF ALL NATIONS,
WHO ONCE WAS MARY,
BE OUR ADVOCATE.
AMEN.
"Then the Lady continues her message, 'Child, this [prayer] is so simple and short that everyone can say it in one's own language, before one's own crucifix; and those who have no crucifix say it to themselves.'"


Source: Conference by Fr. Paul Maria Sigl,
God shows us through Mary, the Mother of All Nations, the way to true peace
Cologne, Germany, May 31, 2009